The Central Florida Sounds of Freedom Band and Colorguard enters into the SoundSport Program!
(click the picture to read the DCI article)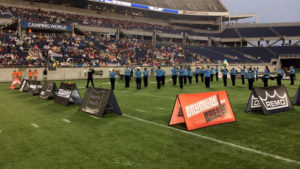 Drum Corps International has long history in Florida, with Orlando having held the DCI World Championships at Camping World Stadium (Formerly the Citrus Bowl) in 1996, 1997, 1998, & 2003 and Miami hosting in 1983.  Florida has seen major players in the Drum Corps field competition with Suncoast Sound, Teal Sound, Heat Wave, Tampa Bay Thunder, Sun Devils, Florida Brass, Magic of Orlando, and dozens of other corps over the years.  In recent years, Florida Drum Corps has seen a resurgence with Heat Wave taking the field in DCI competition, and Florida Express, Impact and Solaris entering into the new DCI SoundSport Division, and the return of 3 DCI contests last summer and 2 this summer.
SoundSport is a relatively new venture for DCI to illuminate both smaller drum & bugle corps as well as other performing and pageantry ensembles. This summer, the Orlando DCI show, held July 8th at Camping World Stadium, will feature a SoundSport Competition.
Central Florida Sounds of Freedom Band and Colorguard will be entering the SoundSport competition this summer for the first time.  This will mark the band's first performance in this venue, first performance at a Drum corps event, and will allow thousands of people to see us for the first time!
For more information about DCI, SoundSport or Central Florida Sounds of Freedom Band and Colorguard, please visit the links below:
www.dci.org
www.soundsport.com
www.centralfloridasoundsoffreedom.com
Marching Roundtable:
If you aren't a subscriber to the Marching Roundtable, you should be! The information shared via this podcast is invaluable to the Marching and Pageantry Arts!. Our Artist Director Chris Green and Founder Juan Canasi were recently interviewed for this podcast to speak about our band and the impact we and other LGBA Bands have on the community. You can subscribe to the podcast via iTunes, or listen to this specific podcast on the link below:
http://www.marchingroundtable.com/2017/04/05/602-central-florida-sounds-freedom-band-colorguard/#comment-61378
(December 21, 2016) Orlando, FL – Central Florida Sounds of Freedom Band and Color Guard, Orlando's own LGBT+ concert and marching band, is proud to announce the appointment of new artistic director, Chris Green. Mr. Green brings a wealth of experience and knowledge with him to the task of growing Central Florida Sounds of Freedom Band and Color Guard, both artistically and in membership with over 25 years experience in bands, drum and bugle corps, pageantry and winter guard. He has been an adjudicator, arranger and clinician for...
read more